Panel Nine write to say, "We're delighted to be releasing a deluxe iPad version of Terry Wiley's VerityFair, bursting at the seams with extras, including a delightful audio commentary by the author on almost every page. And for the first two weeks we have a special introductory offer of just $4.99 / £2.99." The deluxe edition will be out on Friday.

Charles Cutting has launched an Indiegogo campaign to publish a full-colour anthology by three artists on three intriguing tales. Sketches, original art and advertisements are on offer along with a likely smart product. This month only at Black Cloud's Indiegogo page.
I recently discovered Stan Martin has a page on the Zum website. Terrible Sunrise was one of the great self-published brit-comics of the mid to late 90s, chronicling the outbreak of the Great War, and other tales from the war based on diligent research.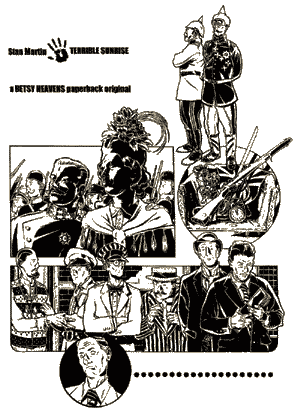 I suspect these are no longer available to buy through Zum. Fortunately, there are about 14 pages there in e-form (Clicking the images to the right), as well as an introduction by Stan. [Link]