Tuesday, June 25, 2002
Posted by Pete
New section on BugPowder!
Matt Abbiss - Cartoonist contains samples from his sketchbooks, some paintings and ordering details for his books. There's also a weblog where he'll be posting up sketches and short strips, sometimes daily, sometimes not so daily.
This is the first of a few new sub-sites I have in the works. Hopefully they'll be appearing every couple of months. Your feedback is apprecaited!
9:43 AM |
Posted by kookymojo
Not exactly comics as you know them, but these pages show some great sequential storytelling from China. (via Plep)
6:51 AM |
Posted by stupidmonster
Bugpowder London Pub Meet.
It's that time again. The next London pub meet will take place Saturday the 6th July, at the Fitzroy Tavern on the corner of Charlotte Street and Windmill Street W1. Here's a map. The new start time is now 6.00pm.
See you there!
5:48 AM |
Monday, June 24, 2002
Posted by Pete
A new section the site. I've been trying to figure out ways to get myself reviewing again after too long an absence. While TRS2 is going strong and about to get an influx of new contributors (contact us if you're interested in joining) I wanted a more personal place to talk comics.
Hence Pete's Picks. Every so often I'll be reviewing 5 or 6 comics from the pile by my bed with decent samples of the books in question. Eventually it'll build into some kind of recommended reading list. Do check it out.
Also, watch this space for another new section on the site coming this week. We are rocking!
4:22 PM |
Posted by Pete
More from TCJ - currently online is an hour of audio consisting of an interview with Ralph Steadman. Go get it.
In related news, I recently ordered in Steadman's new book DooDaaa! at work. It's published in October and it looks to be fucking amazing.
1:46 PM |
Posted by Pete
The Dylan Horrocks interview has been discussed on the Comics Journal message board... kinda... It all wanders all over the place. Here's James Kochalka in a wonderful quote that should make you buy his comics:
My friends and I play a version that we call Drinking and Dragons. It's like dungeons and dragons without any rules whatsoever, except what I make up on the fly. I'm the Drunken Master, I suppose. It can get pretty hard remembering how all the corridors and stuff link together in my head, since I make it all up as I go along. Last game, the map maker, having never played Dungeons and Dragons before, ended up drawing a weird diagram of a little scenes that had occured in the adventure so far, instead of a traditional map. It's a pretty amazing document. Character classes have included Canadian Hobo, Rugby Player, Black-Nosed Halfling, and Squirrel. The first time we played we didn't even use dice, I'd just tell people to pick a number between one and twenty!
1:41 PM |
Posted by Pete
Got a weird assed email from Croatia today. Reprinted here in full...
www.jedinstvo.hr/komikaze

fast forward!!!_______________________ on the jedinstvo (="unity") website

you can find original comics / i.e: comix, photocomics, haiku cmx, drawings & comiclike pictures , , ,topics: dada, anticonsumerism, anarchism etc... an e-gallery of characters: a weird depot of absolute zer(0)es, grotesque + unusually stupid figures drawn on bills, little-pieces-of-cardboard-that-you-put-under-a-beer-glass-but-dont-know-the-english-word-for-them; unbelievably imbecile names & stories; a variety of products of very ill minds .../.

_ in short, these comicxs are provocative, sick, dark, dirty, or subversive, deformed, evil, confused, nightmarish, sexuallyfrustrated, retarded, absurd, brutal, black- and otherways-humored,

here are morbidities, cynicisms, madnessessss, unconscious/subconscious and other traumas, flashbacks, traumatic visions, bad_trips, paranoias! and other deviations and zaums.

the website collects anything close to personality in all of its sick extremities - close to the schoolworks of a 4d from a Bjelovar highschool www.geocities.com/onlajn_4d/zadacn.htm (in croatian only sorry) things socially rejected +defined by a FAIL!

website is updated as new materials arrive

the rhythm is not regular or strictly defined

the old issue goes to the archive, the new issue goes on the index page. it can happen daily, mothly, bimonthly, depends on the authors. the profile of the website is defined the number of contributors is open.

new contributors contact us or we contact them.

all materials should be materialized on paper or CD one day. but they dont have to. all Downloading, CD_burning and reburning, printing and pfotocopying is welcome and encouraged.

editor in (mis)chief: ivana armanini additors: goran cvek, sven cvek

there's no design, materials are prettymuch raw, just scanned, naked, on reasonable resolutions.

no hi-fi designer sublimities and jerkoffs

in time, the madness will spread and our website will grow

off
Make of it whatever you will!
12:33 PM |
Friday, June 21, 2002
Posted by kookymojo
Have some toothpaste for dinner.
7:07 AM |
Wednesday, June 19, 2002
Posted by Pete
Can't believe I haven't mentioned this before, but everyone who comes to this site should sign up for the Page 45 mailing list. Every month they send out a long list of everything decent they've recieved. It saves having to wade through all the crap the industry produces - they find the gems for you. Email using this link to get on it.
4:18 PM |
Posted by Pete
From Andy Konky Kru
4:48 AM |
Tuesday, June 18, 2002
Posted by Pete
Andy can't post and asked me to put this on the site:
Fantagraphics has published a new collection of Krazy Kat Sunday pages and Chris ('Kris') Lanier made a whole page comics review about it. (A whole newspaper page). You can read it here (670kb).
10:00 AM |
Monday, June 17, 2002
Posted by stupidmonster
The release of the follow up to Brian Ralph's award winning Cave In is imminent in America. I'm not sure of Highwaterbooks current distribution deal, but, hopefully the book, Climbing Out, will have greater availability in this country than some of their more recent releases.
4:54 PM |
Sunday, June 16, 2002
Posted by Pete
Useful info on the Caption site about making minicomics. Remember, Caption is on August 17-18th and they're looking for Noir minis for their exhibition, so get drawing. Plus minis are cool.
5:05 PM |
Posted by stupidmonster
A selection of rare mini-comics from zine king Ron Rege Jr will soon become available on a CDROM alongside other artists works, from milkyelephant.com. Which, incidently, is a strange little site with odd, mesmeric flash animations.
2:57 PM |
Saturday, June 15, 2002
Posted by Pete
From Dirk Deppy, webmaster for The Comics Journal:
Cartoonist Facing Homelessness

We recently got a frantic email from William Messner-Loebs, the creator of 1980s indy comic book "Journey" as well as the writer responsible for updating DC's "The Flash" during the same period, announcing that due to a double-dealing bank he was facing imminent foreclosure on his home mortgage. We spent a fruitless couple of days trying to find some rich benefactor willing to loan him the $80,000 needed to save him from an eviction notice -- to no avail.

Now, we're trying to help him land on his feet and avoid homelessness. To this aim, we've opened up an unused forum on the Comics Journal message board, to serve as a clearing-house for information and turn some of the interest we've generated for Bill and his wife Nadine into cold, hard cash. The new forum is here where you can get all the details on the Messner-Loebs' predicament, as well as check up on the various ways we're trying to raise money.
7:53 AM |
Thursday, June 13, 2002
Posted by kookymojo
I'm collecting links of reports and photos of Comics 2002. If anyone has anything online, email me (kookymojo at yahoo dot com) and i'll add it to the collection.
3:32 AM |
Monday, June 10, 2002
Posted by Pete
Interesting event coming up on 14th June Toby Tripp, deranged cartoonist who's going places but no-one knows quite where, is appearing at Special School, an intriguing multimedia art-club thing in Soho on Friday June 14th. Reckon I might check it out.
4:25 PM |
Posted by Andrew Luke
As I have this nearby...
Anyone looking for computer-generated fonts online should make a point of checking out ComicFonts: Beyond Comicraft, they do a greater selection of fonts, some at a greatly cheaper price, a number of Shareware Fonts and links to other sites containing free fonts.
And of course, Comicraft's Online Guide to Comic Book Lettering and production offer free lessons.
11:47 AM |
Posted by Andrew Luke
Over @ the columns on www.thesmallpress.com. Evan Young's ranting, although read it before, it is a cheerer. However, pick of the bunch has to be Dan Carroll's 'Art Class' pictotext style, containing some of his ideas sparked off by loveable ole Mr. McCloud.
11:26 AM |
Saturday, June 08, 2002
Posted by Pete
He's managed to keep it quiet, but Brad! Brooks has a weblog with many many good links.
11:37 AM |
Friday, June 07, 2002
Posted by mooncat
Darryl Cunningham has one of those cool Lomo cameras & took a few snaps at the Bristol Convention
I'm mentioning this as you can check out a couple of Darryl's illustrations while you are there.
3:00 AM |
Thursday, June 06, 2002
Posted by Pete
Opps. What was here before was a personal blog entry. It's now in it's right place. Posting when drunk = bad...
5:12 PM |
Wednesday, June 05, 2002
American Elf: the Sketchbook Diaries of James Kochalka
Posted by Pete
Coupla pieces of good news from the Comics Journal message board: James Kochalka's Sketchbook Diaries are soon to go online in full colour in a spin off project from Modern Tales, and David B's Epileptic (orginially published in French as "L'Ascension Du Haut-Mal") is out this month.
3:37 PM |
harry.jpg 232x287 pixels
Posted by Pete
Bit of frivolity for the UK convention going crowd, but is Rich Johnson turning into Harry Knowles or what???
1:47 PM |
Posted by Dave
This might be really old but here's a brief interview with Dave Cooper.
9:01 AM |
Posted by kookymojo
Ooh, purty. Kind of a combination of Philip Bond and Craig Conlan, which can only be a good thing. More please!
5:17 AM |
Tuesday, June 04, 2002
Posted by Pete
Reports from Bristol will follow when it's all settled in my head but here's a photo of the self publishing talk. Sorry it's a shite photo and I only got about half the room in, but there it is. A stunningly positive (if hot and sweaty) hour. Thanks to everyone for turning up and apologies for those who couldn't get in because it was physically impossible.
In the meanwhile, go get the new issue of Borderline. It's got an interview with Jim Woodring, an in-depth look at the Polish comics scene and a look at what UK small press veteran Adrian Bamforth is up to these days. And it won the Best Specialist Magazine or Website at the National Comic Awards in Bristol. With 50% of the vote. As you might know, I was quite heavily involved with Borderline for the first 6 months or so and, quite frankly, I'm fucking happy about this.
4:34 PM |
Posted by Pete
Bit of a curiosity this one. Groc is a cartoonist who appeared in a number of UK anthologies in the late 80s and was much liked by the guy who got me into American comics. After that he seemed to drop of the map, from my perspective anyway. Here's his weblog and links to some of his work.
3:07 PM |
Saturday, June 01, 2002
Posted by Andrew Luke

Some unusual find are these political comic books are Jobs for Justice, over at Solidarity Comics. The writing veers towards the Pat Mills/Jack Chick book-in-the-throat style, so there's some learning to be gained? As for entertainment, yeah there's a peverse kind of humour in it's making, and it's proof that even bad comic books have more potential than your average flickered screen teat.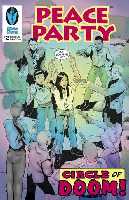 Peace Party from Bluecorncomics.com is somewhat better, containing spiritual and political issues in an essence similar to Mike Butterworth's Ledge of Darkness gear. As well as the online comic strips, the site also features an interesting bibliography on Native American Indians in comic strips.
2:57 PM |